 
CHRISTMAS MOSS (TRUE) - Vesicularia Montagnei
Christmas Moss is a lovely moss that can grow quite compact even in a lower lighting aquarium tank. In higher lighting planted tank, it grows more beautiful triangular moss fronds.
Quality Control Policy - Indoor Grown, Free from Outdoor Pests & Frequent Plants Health & Algae Check

Safe Australia Post Express Delivery - All plants are carefully packed with 3-4 layers of protection to ensure safe arrival

Clean & Quality Packaging - Submersed plants are manually rinsed by Aquarzon before being packaged. All plants are individually labelled for easy identification
(Information written by Aquarzon based on actual growing experience, observations and research. Please do not copy any information or photos) 

Portion Size : Around 6 X 6 cm (around slightly smaller than palm size)
If Christmas Moss is out of stock, the next best alternative is Peacock Moss which looks similar and is also the same price. The product link to Peacock Moss is at the bottom of this page

Growth Speed   : Medium
Difficulty Level   : Easy
Temperature      : 10-30°C
PH Range          : 5.5-7.8
Min. Light Needs: Low-Medium  
Origin                 : Asia & Brazil
The Christmas Moss that Aquarzon propagates is the true Christmas Moss (Vesicularia Montagnei) and it is not Peacock Moss or Spiky Moss. We have taken many photos and one of the photos we uploaded here is the closeup shot which you can see the actual distinct Christmas Moss triangular shape fronds with sharper and spikier edges (different from Peacock Moss which has velvety and soft edges on their triangular fronds). 
Christmas Moss is one of the most beautiful mosses that is easy to grow and undemanding. It grows compact and forms triangle shape fronds when grown in high lighting aquariums. In lower lighting tank such as in low tech tank, the triangle fronds are less apparent but it can still grow fine and remain healthy (we have uploaded different photos and one of the photos shows how it looks like when grown in low tech and low lighting environment whereby the triangle fronds are much less apparent) and it becomes less compact 
Christmas Moss is, unfortunately, one of the most commonly misidentified moss in the aquarium hobby. A huge amount of mosses sold as 'Christmas Moss' is not the true Christmas Moss but is in fact Peacock Moss or Spiky Moss. This situation occurs as both Christmas and Peacock Moss can form both triangle shape fronds and over time as more and more hobbyists accidentally passed them on with mixed or incorrect labels, it gets harder to obtain the true Christmas Moss. 
You might also like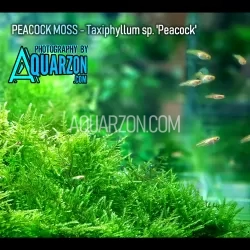 Frequently purchased together