 
VERY RARE GIANT WILLOW MOSS - Fontinalis Antipyretica var. Gigantea
Quality Control Policy - Indoor Grown, Free from Outdoor Pests & Frequent Plants Health & Algae Check

Safe Australia Post Express Delivery - All plants are carefully packed with 3-4 layers of protection to ensure safe arrival

Clean & Quality Packaging - Submersed plants are manually rinsed by Aquarzon before being packaged. All plants are individually labelled for easy identification
(Information written by Aquarzon based on actual growing experience, observations and research. Please do not copy any information or photos) 

Portion Size : Around 6 X 6 cm
Portion Type: Loose/Unattached

Growth Speed   : Medium
Difficulty Level   : Easy-Medium
Temperature      : 10-28°C
PH Range          : 5.5-7.5
Min. Light Needs: Low-Medium         
Origin                 : Europe, Asia, North America & Africa
Giant Willow Moss (Fontinalis Antipyretica var. Gigantea) is a very beautiful and lush moss that is very rare in Australia. 

Aquarzon has propagated this since mid 2020. 

Compared to the common Willow Moss, the Giant Willow Moss grows lusher, with fronds that are around 2 times larger.

It is very beautiful and a great fit for many aquascapes (the 3rd photo shows an example of our aquascape using this moss).  It is best used around the foreground to midground area of an aquascape, especially when attached to driftwood or rock. It is perfect for rainforest and jungle-theme aquascapes as well as moss-scapes.

One of Aquarzon's customers who used to live in England shared with us that the Giant Willow Moss was sighted growing lush in very cold and fast running water in England. This matches with our experience that this moss thrives with good water flow and can grow well even in very cold water.
You might also like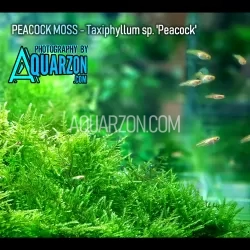 Frequently purchased together

Regular price

A$19.00

-A$4.00

Price

A$15.00

Regular price

A$50.00

-50%

Price

A$25.00

Regular price

A$25.00

-A$6.00

Price

A$19.00

Regular price

A$29.00

-A$10.00

Price

A$19.00