 
MARIMO 'MOSS' BALL - Australian Grown
High Quality Control Policy
Indoor Grown, Free from Outdoor Pests & Frequent Health Check
Safe Australia Post Express Delivery
Plants are carefully packed with 3-5 protection layers for safe arrival
Manually Rinsed & ID Labelled
Submersed plants rinsed by Aquarzon for cleanliness before shipping & ID labelled for you
95%+ Plants Submersed Grown with Hi-Tech Lighting & CO2
This costly method helps avoid transitional melting issues that can affect emersed & TC plants
(Information written by Aquarzon based on actual growing experience, observations and research. Please do not copy any information or photos) 

The ball size we indicate here is based on its size when almost dry/with minimal water. That means when you put it into the aquarium where it absorbs more water, it will usually become bigger.


PROMO: Buy 5, Free Extra 1
Buy 10, Free Extra 2 & Free Australia Post Express
Buy 15, Free Extra 4 & Free Australia Post Express

Our Marimo Balls are very healthy and green. They are grown indoors in very clean water in fishless setup (so no fish poop, etc.). They are not harvested from wild which can cause extinction and can introduce pests.

We Express Post all Marimo Balls in our special containers. They are wrapped in thick moist serviettes, carefully packed in our special containers, then bubble wrapped, then boxed, and then satcheled so there are 5 layers of protection to ensure they arrive in great health.
Our comprehensive 5 layers protection shipping method provides physical protection and temperature insulation which is way different than the common standard marketplace shipping style which only use zip lock bags and satchel (lacking proper temperature insulation and severely insufficient physical protection) which usually harm their health or causing them to be damaged or crushed on arrival.

 Marimo Balls look best in a cluster of 5-10+ balls to create a beautiful effect.


Growth Speed   : Slow
Difficulty Level   : Easy
Temperature      : 10-30°C
PH Range          : 5.5-7.8
Min. Light Needs: Low  
Origin                 : Asia & Europe
Aquarzon supports the importance of information accuracy so that our customers can make informed decisions. Therefore, we have written the following information below with the purpose of helping our customers:


What Is Marimo 'Moss' Ball?

Marimo 'Moss' Ball is actually a rare growth form of Aegagropila Linnaei / Cladophora Aegagropila (a type of algae) rather than being a form of moss. Aquarzon would personally prefer Marimo to be just called Marimo Ball rather than being Marimo 'Moss' Ball due to that reason. However, our understanding is that the initial traders that introduced these to the aquarium hobby traded them as Marimo 'Moss' Balls and this name had stayed on for the next 30+ years in the aquarium hobby. As such, while we do not want to change its trading name, we have put the 'moss' part of its trading name in quotation marks to highlight this to help our customers be aware of this.

Why is it important for me to know that it is a type of algae?

The reason why Aquarzon highlights this is because by helping our customers know they are a form of algae, our customers will be aware that using algaecides in their aquarium tanks while the Marimo 'Moss' Balls are inside their tanks will harm these balls.

Aquarzon would like to point out that Seachem Excel and any products containing glutaraldehyde (also known as liquid carbon) has algaecide/biocide properties and therefore, it will harm Marimo 'Moss' Balls.

If there is any need to use the above products or any other algaecides, Aquarzon recommends removing these balls before dosing any algaecides. For Seachem Excel/glutaraldehyde/liquid carbon, these generally breaks down in the aquarium after 24 hours. So, it is generally safe to put the balls back after 24 hours. For other algaecides, it is best to check first as some may take a few days or longer to break down.


They look so cute and beautiful. Where can I place them?

Marimo 'Moss' Ball naturally sink and Aquarzon recommends them in the foreground of most aquariums. They look very nice in the foreground of fish tanks and looks great in the foreground to midground regions of shrimp tanks.

They are non-demanding and easy to care for. Their main needs are just some lighting and basic nutrients - the readily available nutrients such as nitrate and phosphate in a usual aquarium originating from fish waste or plant matter are usually sufficient.   

As they do not require high lighting or CO2 addition, they are very suitable for low tech tanks. Marimo 'Moss' Ball is also one of the several that is very suitable for nano tanks and Diana Walstad-style tanks. They can even be kept in bowls by themselves on your office/home desk next to your computer to add some greenery to your office/home environment. They look best in a cluster of 5-10 balls. 


Do they always grow and stay rounded?

This depends a lot on the environment they are grown in.

It is important to understand that in an aquarium environment, it is a much smaller enclosed area compared to a natural lake whereby the water flow is not the same.

In a natural lake, there is mass water flow that is strong enough to cause regular rolling movements to the Marimo balls.
When the Marimo balls are naturally rolled at the base of the lake as they grow (from the strong mass water flow), it helps keep them rounded in shape (Acton, 1916).
However, in an aquarium environment, it is rare for the Marimo balls to be rolled the same way as they are in a natural lake. In an aquarium environment, the water flow is narrowly focused from a filter outlet. The combination of narrowly-focused water flow and weaker water flow usually causes the Marimo balls to remain quite still. Even if it is occasionally rolled for example by bottom-dwelling fish such as pleco/catfish, they are usually not evenly rolled. 

As such, Marimo balls grown in an aquarium environment will usually not be as round as Marimo balls growing wild in lakes overseas.
The Marimo balls you receive are usually not perfectly rounded as they are naturally grown in an aquarium environment. They are not illegally taken from overseas lakes. Some balls may be threaded to help it retain a more rounded shape as it grows in aquarium environments.

Marimo balls grown with the presence of bottom-dwelling fish such as pleco/catfish may also have slight bumps which are completely normal. It is actually good to have bottom-dwelling fish like pleco which can help clean debris/detritus that get stuck and build up over time on the Marimo balls. Shrimps can also help with this.

Aquarzon's findings are that in nature such as in Lake Akan in Japan, they are observed as being more rounded in shape as there is regular mass water flow. As water flows, the balls roll, keeping it rounded during the growing process. Acton (1916) states that the rolling movements on the ground (in their natural lake environment) and abrasion of apical cells induce rounded growth and profuse lateral branching.



If Japan does not allow the export of Marimo balls from Lake Akan, how could shops globally have them?
Based on Aquarzon's research, Marimo is not endemic to Japan in the same way that the Manuka honey plant (Leptospermum Scoparium) is not endemic to New Zealand. While Manuka is a Maori/NZ name, the  Manuka honey plant (Leptospermum Scoparium) is also naturally-growing in Australia.

In the same manner, Marimo is certainly a name of Japanese origin. However, Marimo Ball is actually just a Japanese name referring to Aegagropila Linnaei algae in ball-shape form. Contrary to certain public perception, this Aegagropila Linnaei is not endemic to Japan. It also naturally occurring in several other countries too, especially in Europe. They are naturally occurring in Iceland's Lake Mývatn, Ukraine, Netherlands etc.

In an academic journal by Christian Boedeker, Anja Eggert, Anne Immers, Erik Smets, a survey on 20+ aquatic plant traders in Europe, Japan & USA provided insight that many were stated to be initially originating from Lake Svityaz, or the Shatsk lakes (northwestern Ukraine). They are then propagated in commercial facilities. 

It is also well-documented in academic journals to be naturally occurring in other European countries.


What is the conservation status of Marimo balls?
In the several places where Marimo balls are naturally-occuring, the majority are on the brink of extinction/endangered. As per Aquarzon's research, in Austria's Lake Zeller for example, it has been extinct since approximately 1910 (Nakazawa 1974), 

In Japan's Lake Akan (the most popular place for Marimo balls in Japan), they are on the brink of extinction/endangered. Japan has been holding the Marimo Matsuri Festival since 1950 to promote and celebrate the conservation of Marimo.

If you are buying Marimo balls, do not buy from places that get their stock from the wild to ensure its conservation status and environmental sustainability is protected.

Aquarzon's original stock is 100% local (not imported) and locally grown which ensure its conservation status and environmental sustainability is protected.


What should I do if I buy them?

If buying them, please treat them with care. They are precious as they are nearly extinct/endangered in nature.

Keep them indoors and do not release them in any Australian lakes, waterways, etc. Australia has unique biodiversity which needs to be protected.

In respect to state-based laws, please do not buy Marimo balls if you are residing in Tasmania or WA as we cannot post them to those states.



Feel free to choose the desired size and quantity before selecting 'Add to Cart'. 
If buying 5, you will get an extra 1 free.
If buying 10, you will get an extra 2 free and free Australia Post Express.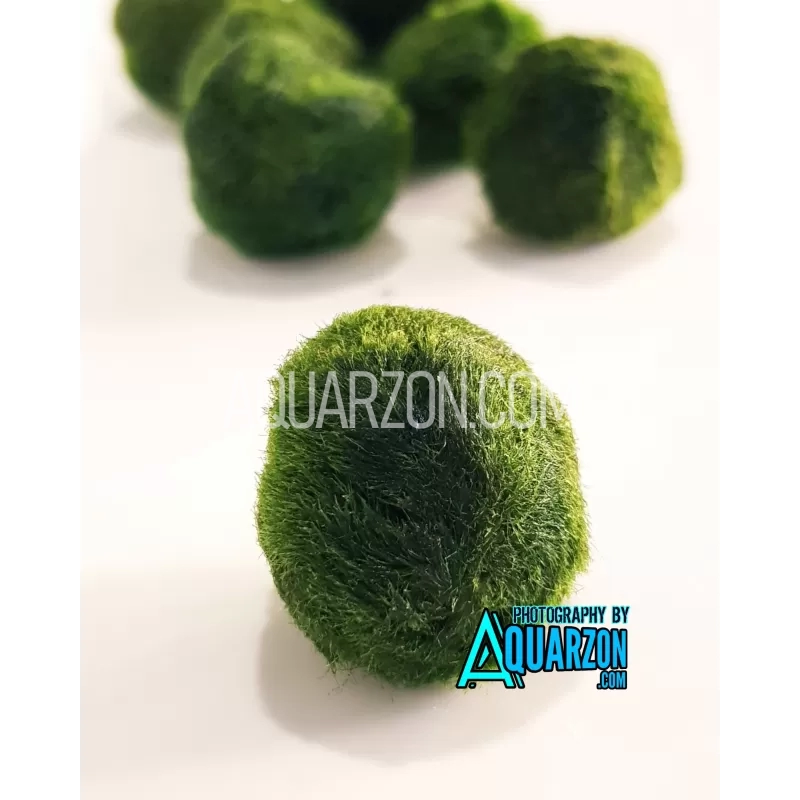 Below is an example of 2cm vs 3cm Marimo Ball Size




Below is example of 2-3cm Marimo Ball diameter size (compared to coins of Australia - Australian 2 dollar, 1 dollar & 50 cents coin size) photographed by Aquarzon for easy visual comparison



Below is an example of 2-3cm Marimo Ball diameter size (with ruler measurement), measured and photographed by Aquarzon






As can be seen below, there are many ways to beautifully use Marimo Balls. It can be placed on your desk, office, home and aquarium.




They look best in a cluster of 5-10+ balls as can be seen below:


8 other products in the same category:
Customers who bought this product also bought:
Frequently purchased together