 
RARE TRUE BUCEPHALANDRA BLACK PINK CECEP WILL 2021
High Quality Control Policy
Indoor Grown, Free from Outdoor Pests & Frequent Health Check
Safe Australia Post Express Delivery
Plants are carefully packed with 3-5 protection layers for safe arrival
Manually Rinsed & ID Labelled
Submersed plants rinsed by Aquarzon for cleanliness before shipping & ID labelled for you
95%+ Plants Submersed Grown with Hi-Tech Lighting & CO2
This costly method helps avoid transitional melting issues that can affect emersed & TC plants
(Information written by Aquarzon based on actual growing experience, observations and research. Please do not copy any information or photos) 

Portion Size : Around 4-5 Leaves


Bucephalandra Black Pink Cecep Will is a rare medium to bigger leaves Buce.

Aquarzon observes this species as having beautiful dark and rounded leaves with slightly wavy edges.
It is one of the very iconic Bucephalandra species collected by Bucephalandra collectors and is excellent as as special feature plant in an aquarium.

We pay tribute to the late Cecep Will in Sanggau, Indonesia. His contribution to this species in the aquarium trade is recognised among Bucephalandra enthusiasts. 

The variety offered by Aquarzon is understood to be the true variety based on extensive checks with many different sources.
Our original stock was sourced from a local aquarium hobbyist and is aquarium submersed grown for around 2 years.

From our understanding, the name Black Pink refers to the top of the leaf being dark tone while the bottom of the leaf being usually pink. 

From our observations, the underside of the leaves can be pink, creamish or sometimes green and we have photographed them below to demonstrate this. Photos of the underside can be seen from our bottom few photos here.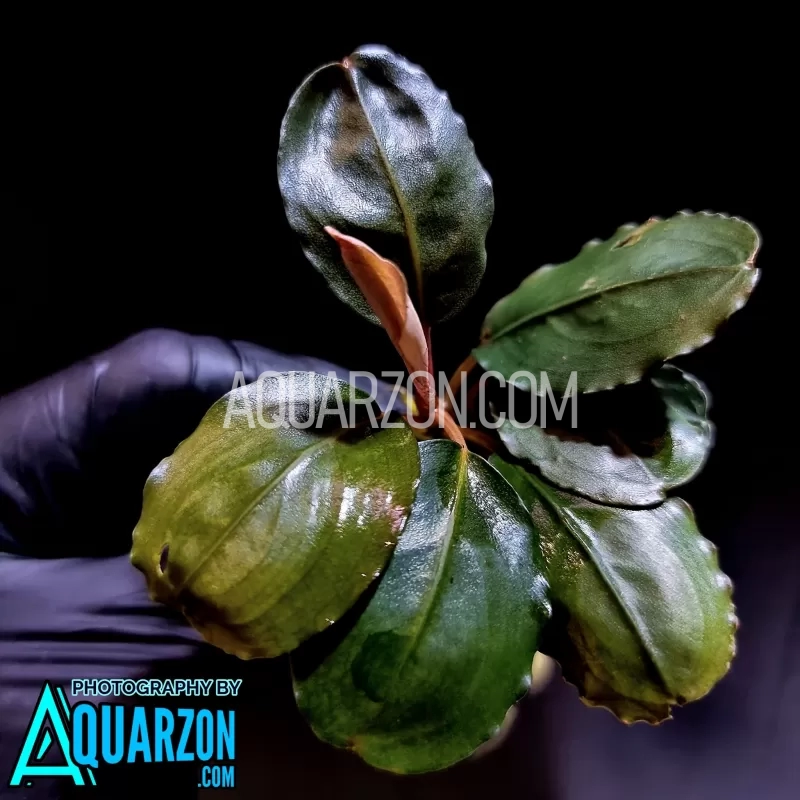 Photos of underside below. As can be seen, besides the pinkish/reddish underside, there are some which look creamish/greenish too




A close up photo of a leaf with a more pink underside below




_________________________________________________________________

Growth Speed   : Slow-Very Slow
Difficulty Level   : Easy
Temperature      : 10-30°C
PH Range          : 5.5-7.8
Min. Light Needs: Low
Origin                 : Borneo, Asia

Please note that not every piece has the same colour tone as it can change based on aquarium conditions that vary from time to time. For example, even by just moving it from center to a side of an aquarium, its new growth may be greener due to the reduction in lighting received. Aquarium lighting can also affect its appearance. Under pure white lighting, most Buce appear greener and under RGB LED aquarium lighting, most Buce usually reflect more colourful tones.
The Bucephalandra rhizome for sale here by Aquarzon here is indoor aquarium submersed grown. It is not emersed or tissue culture which can suffer melting when transitioned to an aquarium. This leads to ammonia and organics increase, making it susceptible to algae issues like BBA. It is also not pond grown which can carry outdoor parasites and diseases. It is also not harvested from the wild as it is non-legal and can cause extinction. The Buce rhizome for sale here is naturally aquarium-propagated which takes a long time due to its very slow growth rate. 
Majority of our Buce is aquarium submersed grown for 1-3 years and only sold once they meet our quality standards. The price reflects the care, effort and time in propagating these very slow-growing plants (some growing just 1 leaf in 2 weeks).
By purchasing from Aquarzon, you are assured of quality, indoor aquarium submersed grown Bucephalandra that do not suffer diseases or emerse-to-submerse melting issues that can affect emersed-grown Bucephalandra and support sustainable growth efforts which helps protect them from extinction.
8 other products in the same category:
Customers who bought this product also bought:
Frequently purchased together