 
8 X PEACOCK MOSS (BULK LOT OFFER) - Taxiphyllum sp. 'Peacock'
Quality Control Policy - Indoor Grown, Free from Outdoor Pests & Frequent Plants Health & Algae Check

Safe Australia Post Express Delivery - All plants are carefully packed with 3-4 layers of protection to ensure safe arrival

Clean & Quality Packaging - Submersed plants are manually rinsed by Aquarzon before being packaged. All plants are individually labelled for easy identification
(Information written by Aquarzon based on actual growing experience, observations and research. Please do not copy any information or photos) 

Portion Size : Around 6 X 6 cm (around palm size)
Portion Type: Loose/Unattached

Growth Speed   : Fast
Difficulty Level   : Very Easy
Temperature      : 10-32°C
PH Range          : 5-8
Min. Light Needs: Low         
Origin                 : Asia
This listing is a special bulk lot listing for 7 portions of Peacock Moss (each portion is around 6 x 6 cm flat). 

This comes with free Australia Post Express.

The Peacock Moss grown by Aquarzon is 100% true Peacock Moss (Taxiphyllum sp. 'Peacock') and it is not Christmas Moss (Vesicularia Montagnei).
This special bulk offer is good if you intend you get a larger amount of moss especially for giving moss coverage to a certain area such as to cover your driftwood and rocks. It can also be used to make a moss wall or moss carpet. 

The main difference between Peacock Moss and Java Moss is that Peacock Moss can grow triangle-shaped fronds and grows more compact than Java Moss. Java Moss tends to grow more wild and more stringy.
 Peacock Moss is a strong, easy and a fairly fast-growing moss which is great for almost all purposes especially to cover driftwood and rocks to create that natural forest aquascape appearance.


You might also like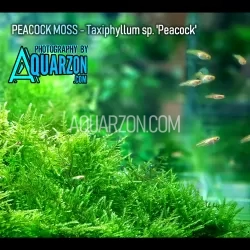 Frequently purchased together